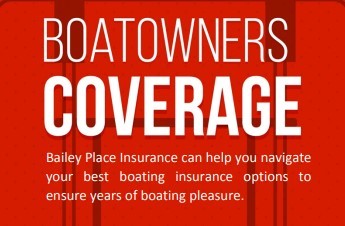 You purchased a boat to provide years of personal enjoyment—ensure your pleasure by choosing the right insurance protection.

The Basics
A small boat, such as a canoe or other unmotorized boat, is typically covered under the personal property portion of you homeowners insurance policy.
If you own a larger, faster boat, you'll need a separate boatowners insurance policy. It can help you insure your investment in the event of loss due to following risks:
Sinking
Fire
Storms
Theft
Capsizing
Stranding
Collision
Explosion
Coverage Basics
A typical boatowners insurance policy is designed to protect your boat, motor, equipment and passengers. It provides similar coverage to those you typically have for your car including the following:
Theft, loss or damage to the boat and attached equipment
Bodily injury coverage
Damage caused to someone else's property by your boat or watercraft
Liability coverage for your passengers, which would include family and guests
Medical payment coverage for injuries to the occupants of the boat
Physical Damage Coverage
Physical damage coverage insures your boat, motor, boat trailer, boating equipment and other personal property against accidental loss or damages.

Liability Coverage
Two principal liability coverages include:
1. Personal liability coverage provides protection for legal liability and pays, up to the limit of your policy, the legal obligations imposed upon you due to an accident resulting from the ownership, maintenance or use of your watercraft, including bodily injury, property damage and legal defense.
2. Medical payments coverage pays medical expenses up to the limits in the policy, including the insured's boating- related medical expenses from an accident arising out of the ownership, maintenance or use of the boat. Expenses include hospital, medical and ambulance.
Additional Coverage Options
For added protection, consider the following additional coverage options:
Reasonable repairs: Covers repairs done to protect covered property from further damage.
Emergency service: Pays for reasonable costs that you incur resulting from specified emergency service to your boat, motor or boat trailer.
We'll provide you with a quick quote. Just reach out when you are ready!