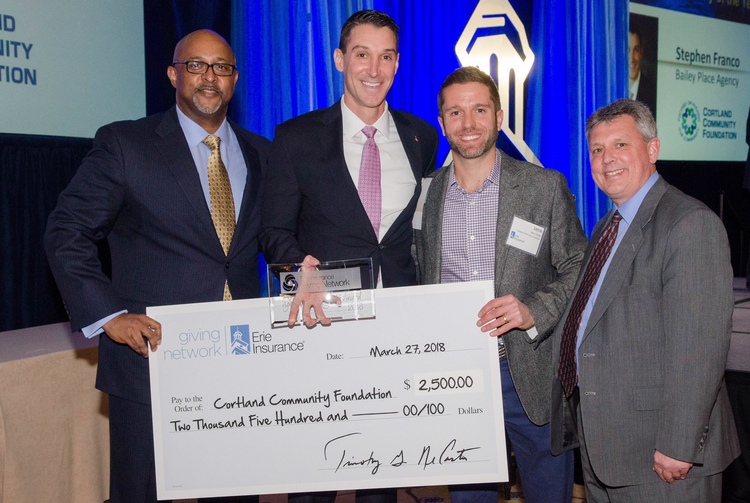 SYRACUSE - Bailey Place Insurance has been named the 2018 Giving Network Agency of the Year for outstanding community service. The statewide award, sponsored by Erie Insurance Company, is given in honor of an agency's efforts to support local charities and not-for-profits. The award includes a $2,500 donation from Erie Insurance to the Cortland Community Foundation.
At a recent awards ceremony, Erie Insurance recognized Bailey Place not only for the significant financial contributions the agency makes in Cortland and Tompkins counties, but for the variety of community services the agency provides and the expertise they provide to not-for-profits they work with. The award recognizes independent agencies that demonstrate exceptional commitment to the community through volunteerism.
Bailey Place embraces the philosophy that giving is not just about making financial donations. Collections are done in the offices regularly for local food pantries, Toys for Tots and many more, and employees are encouraged to give back to the community.
"We are honored to be recognized for this award," said President Steve Franco, "And to share the award with the Cortland Community Foundation.
Bailey Place specializes in working with Not-for-Profit agencies and employees donate countless hours to serve on dozens of boards, committees and service groups. The Cortland Community Foundation is the only public foundation responding exclusively to the needs of Cortland area organizations and the people they serve. Grants from the Foundation help support capital improvement projects and provide many types of equipment, materials and supplies for local organizations.
Cortland Community Foundation member Jamie Yaman thanked Bailey Place, and Erie Insurance at the ceremony. "Bailey Place Insurance has been a model corporate citizen in the Central New York area," Yaman said. "The Foundation is thrilled to be able to enhance our partnerships in Cortland County as a result of this prestigious award."
With offices in Cortland, Dryden and Ithaca, Bailey Place Insurance is celebrating its 160th anniversary in 2018.