On April 1, 1936 a heating and ventilation salesman quit his job and opened a one-man insurance agency in Dryden, New York. Today, the name George B. Bailey still resonates in the town of Dryden as Bailey Place Insurance celebrates this significant milestone of servicing the Dryden community for 80 years.
George Bailey's venture, which he passed along to his son Bill, grandson John, and which now operates in Dryden as Bailey Place Insurance, has been a staple in the community since its inception. The advice that George provided to his family is still followed today. "Know your product and get out and see people."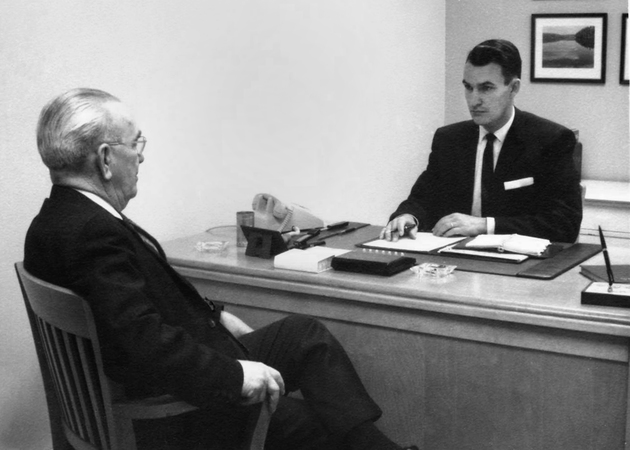 Bill Bailey sits across the desk from his father and Bailey Agency founder George B. Bailey in the early 1960's.
Bill and his wife Jane retired in 1996 and they still live in Dryden.

Bailey Place Insurance prides itself on providing superior customer services to its clients. "When you call our office, you get to talk to a person. Though much has changed in the last 80 years, the personal connection with our clients and community remain the hallmark of our company," said Steve Franco, President of Bailey Place.
After graduating from Cornell, Bill took a job at Clark's Seed Farms, which was in the seed potato business. After spending one day on the job clearing a warehouse of rotten potatoes, Bill was sure of one thing- he did not want to be a seed potato farmer! Bill then spent two years in the army, and while he was in the service he married his wife Jane. While he was serving in Okinawa, Japan, he received a letter from his father, offering him a job at the Bailey Insurance Agency – an offer he accepted and never regretted.
George B. Bailey had begun working out of his house and garage, then opened an office on Main Street. By the 1960s the business had grown and Bill purchased the building at 5 South Street, where the company operated for more than 50 years. It was here that Bill Bailey continued the legacy his father had begun.
Bailey joined the Professional Insurance Agency (PIA) of New York and in 1977 was named President. In 1979, he was named Professional Agent of the Year. This was also the year that Charles "Chuck" Spaulding joined the agency. He is currently Chairman of Bailey Place Insurance.
"Bill was my mentor," Spaulding said. "He was a great insurance man and a people person who really knew the product. He was a student of the industry, and as such he helped a lot of businesses in the Dryden area get established and succeed."
Bailey said his father, George, shared with him advice for running any good business. "Like a stool with four legs, any business should rely on the advice of four experts – a banker, a lawyer, an accountant and an insurance agent. I was proud to be one of those four pillars that my community could rely upon."
It was his love for the industry that led Bailey to be the NYS representative to the National PIA, and soon after, the president of the national organization. "It takes a special person to come from a little agency in Dryden, New York and make it to the presidency of a national organization," Spaulding said. "And Bill Bailey was that special person."
In 1987 the Bailey Agency acquired the Winchell Agency of Cortland, and the Denniston Agency of McGraw. This allowed for expansion to the Cortland market. "Our Dryden office was the anchor that allowed that expansion to begin." Spaulding said. In April 2013, Place Insurance merged with the Bailey Agency to become Bailey Place Insurance, with its main office in Cortland. With the acquisition of the Cotterill Agency in December of 2015, Bailey Place Insurance cemented its commitment to the Dryden community and subsequently moved its Dryden office to the iconic Cotterill building at 78 North Street. Significant renovations were made to the building and state-of-the-art technology will ensure superior products and service for Bailey Place clients for years to come.
"Eighty years is an exceptional accomplishment in this industry," Franco said. "It is a tribute to the hard work of everyone that has been a part of the business over the years, and to the loyalty of our clients. The Central New York community knows that they can trust and rely on the agents at Bailey Place to provide the insurance they need and the service they deserve."
Bailey Place Insurance is a leading independent insurance agency with offices in Cortland, Dryden and Ithaca and 25 employees. They represent most major insurance companies and provide comprehensive insurance and risk management for families, business, municipalities and nonprofit organizations across the region.