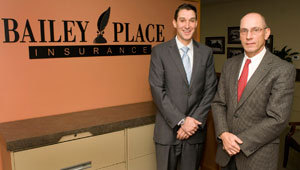 Bob Ellis/staff photographer
Steve Franco, left, and Chuck Spaulding, owners of Bailey-Place Insurance. The company won Small Business of the Year at the annual Chamber of Commerce Awards dinner Wednesday night.
SOLON — The Cortland County Chamber of Commerce held its annual awards dinner Wednesday night at Tinelli's Hathaway House, honoring five of its members with awards.
The chamber's 2013 Small Business of the Year Award went to Steve Franco and Chuck Spaulding, formerly of Place Insurance and the George B. Bailey Agency, respectively, but now equal partners of Bailey Place Insurance.
They received the award for their successful efforts in bringing together two long-standing insurance agencies with over 230 years of experience between them into a single company
"This is their award," said Franco of his employees. "They did all the work. We're incredibly blessed to work with them each and every day."
"It feels terrific," added Spaulding. "It's been a lot of hard work. You don't really know what it's like until you go through it. I think this award validates what we've been trying to do this past year."
The most resounding applause of the evening went not to a business however, but to an individual. Doug Bentley, who works at Cortland Co. (formerly Cortland Cable Co.), was the recipient of the Kathy Cotterill Community Service Award, garnering a standing ovation from the over 200 strong audience.
In his speech to the audience, Chamber of Commerce Executive Director Bob Haight cited Bentley's small, consistent acts of service, drawing attention to his routine of carrying a garbage bag with him as he walks his dog each morning while keeping an eye out for any loose trash that might be on his route, and spending time with a 10-year-old boy he mentors.
"I first heard about it at a tobacco-free Cortland meeting," said Bentley. "It sounded like something I'd like to do."
Now, Bentley spends hours each week with his young charge. With outings to the SPCA and the Red Cross, the 61-year-old is showing him how to be a volunteer.
"We all have a responsibility to the young people in our community to set a good example," said Bentley. "As we meet more people we weave ourselves into the fabric of the community."
And as for the daily street cleanup, Bentley said he just does not like his street to be dirty.
"I thought back to when I was a Boy Scout and a rule we had when camping: always leave your campsite area cleaner than when you arrived," said Bentley. "I have to drive down that street (Groton Avenue) on the way to work. I just got in the habit of picking it up."
The night's other winners were textile manufacturer Albany International, which received the Large Business of the Year Award, Leach's Custom Trash Service, which received the chamber's Heritage Award and JM Murray, which, due to its employment and support services for individuals with developmental disabilities, took home the Non-profit of the Year Award.
To read this article and more, pick up today's Cortland Standard